Here is a plugin that adds a variety of options to the products on your WooCommerce site.
Plug-ins that give products various options rather than variations
This plugin is probably the most used WooCommerce extension plugin in the world. This is because it is a very simple plugin that can be applied to many different products.
Normally, if you are selling a product with a selection of sizes, you would set up a "product with variations". But, for example, if you want to add a name to a gift item, you will want to have the ability to add a name to each item. This is a plugin that makes it easy to do that.
Features you can add to your product
The features that can be configured for WooCommerce products with this plugin are
Selection by tick box
Selection by select box (multiple selections possible)
Enter short texts (letters only, numbers only, email addresses, etc.)
Entering long texts
File attachments
Numerical input
Additional customer defined costs
Each of the above can be priced etc.
By using the above functions, you can create a field to enter the name of the gift.
YOU CAN ALSO CREATE SIMPLE PRODUCTS SUCH AS HAVING AN IMAGE FILE ATTACHED AND PRINTING IT ON A T-SHIRT.
Flexible setting range
The above settings can be set for each product. You can also set them for each category, or for all products.
You can also use more than just one additional feature. For example, you can add a category unification option and a product specific option.
Specific examples of use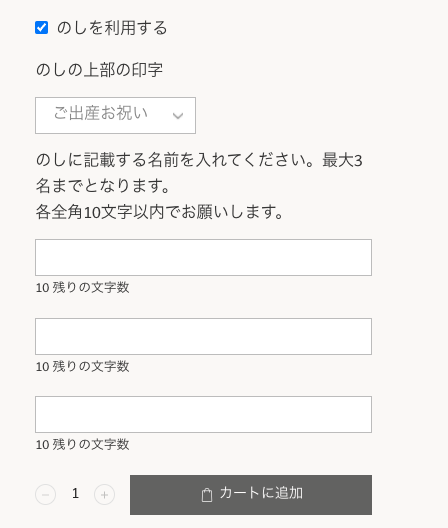 The following products from our sponsor BabyBjorn use this plugin for their noshi system.
The image on the left is a screenshot of that part of the site. The basic functionality of the plugin is this, although we have used JavaScript to customize the display. We have also customized the Japanese input.
You can even add little extras to your products to upsell them, so you can think of various ways to improve your business and service.