Woo EC Fes Japan 2021 has ended successfully on 20th November 2021.
Thank you to everyone who attended and participated in the sessions. Thank you for coming to Woo EC Fes JAPAN 2021, despite the fact that the state of emergency has been lifted. For those of you who were unable to attend on the day and have purchased a silver ticket, you will have already received an email inviting you to view the archive. Please have a look at the archive.
The venue (oVice) on the day
As we had announced, this year's venue was oVice. While last year's Woo EC Fes was held at oVice for the reception only, this year's Woo EC Fes will be held at oVice for the whole event, including the sessions and workshops, on three floors, which is a first for the organising committee.
Will it be delivered properly? Will the audio be output? After a lot of anxiety and trial and error, we were able to finish the event without any problems.
Opinion of the Executive Committee staff
Here is a summary of the opinions of the staff who guided us.
Good things
(This was the opinion of almost all the staff.) The participants were so familiar with oVice that there was very little guidance. (This was the opinion of almost all the staff.)
It was easier than last year.
The ability to see how many people were on the same floor and who was there was useful.
Things that baffled me
I didn't know if I should say something to him, if he needed help or if he was just stopping to relax.
It was difficult to verify the identity of the participants as they were free to change their names.
Unlike zooms and the like, you can't see the expression on their faces, so we were advised that it was difficult to approach them.
Even if we guide you through the chat, the text disappears immediately.
Some people were not able to get to the floor where paid ticket buyers are allowed. (This was not a specification of the system, but a misunderstanding in an email)
What I should have done & what I want from oVice
At the event, there was the ability to place an object that starts playing a video (YouTube) explanation of how to use it when you approach it, as shown in the image below, an object that can embed a web page in an iframe, and a noticeboard with text information, but some thought that more guidance was needed.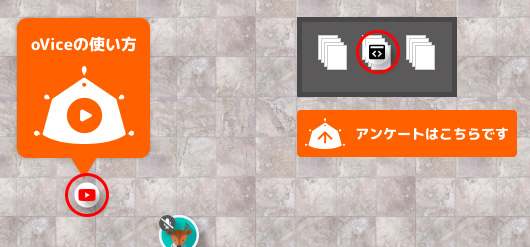 It would be easier to identify staff if they were automatically marked according to their authority.
It is useful to know the number of people on different floors and their names.
The whole building should have a megaphone.
A monitor on each floor would be useful.
The text in the chat disappears quickly, so it would be nice to have some kind of placard to keep it displayed.